Posted by admin in Beauty | 9 Comments
Beauty
Topic : Beauty
Isaiah 3 vs 16-24…
Moreover the Lord saith ,Because of the daughters of Zion are haughty, and walk with stretched forth necks and wanton necks and wandering eyes, walking and mincing as they go, and make a tinkling with their feet; Therefore the Lord will smite with a scab the crown of the head of the daughters of Zion, and the Lord will discover their secret parts….In that day the lord will take away the bravery of their tinkling ornaments about their feet, and their cauls, and their round tires like the moon, the chains and the bracelets and the mufflers, the bonnets, and the  ornaments of the legs, and the headbands, and the tablets, and the earrings, the rings and the nose jewels, the changeable suits of apparel, and the mantles, and the wimples, and the crisping pins…the glasses, and the fine linen, and the hoods, and the vails……and it shall come to pass that instead of a girdle a rent; and instead of well set hair , baldness; instead of a stomacher a girdling of  sackcloth; and a burning instead of  BEAUTY.
This is a scripture that a lot of sisters are often embarrassed by and hate when it gets read, because its true!!!!  It is part of the curse for disobeying the Most Highs laws.
JUST deal with it….yes we got cursed with baldness, mainly the tribe of Judah, Benjamin and Levi ( now we wear weaves and wigs, etc…. ), some of us are fat and out of shape…..and stink too in all the wrong places….. believe me beauty is a gift, a blessing from the Lord. Repent and get yourself together!
Women love to look good , all to allure the eyes of men ….make-up should enhance  the beauty you already possess not make you look like somebody else, a clown or a harlot……a little goes along way, teach your daughters   please or seek out some advice from a professional or a sister that is educated in this area. I got this all wrong in my youth, it is a skill that needs to be taught and learned over time . Natural beauty is the best, I look at my daughter and wish I could turn back time……( sigh )  Some women prefer not to wear any, some a little gloss…..I for one have dreams of being low maintenance, but I am a high maintenance  girl and love it!  Work with what you have, rivalry and competition with each other sometimes occurs, at all age levels. Jealousy is a cunning demon, fed with coveteousness is serious and not good…so be very careful. We spend  lots of time  and money at the hair salon, nail salon….not to mention our own personal grooming rituals at home.. We sisters love to look fly, and shop till we drop…many of us have more lotions, creams , potions and perfumes etc.,  than we can possibly wear,,, but the men in our lives LOVE IT!!
Sisters, cosmetics and the use there of is a personal decision. There are a lot of choices, do your own research and decide what works best for you.
From Wikipedia, the free encyclopedia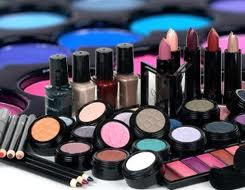 Cosmetics
The manufacture of cosmetics is currently dominated by a small number of multinational corporations that originated in the early 20th century, but the distribution and sale of cosmetics is spread among a wide range of businesses. The U.S. Food and Drug Administration (FDA) which regulates cosmetics in the United States  defines  cosmetics as ….
"intended to be applied to the human body for cleansing, beautifying, promoting attractiveness, or altering the appearance without affecting the body's structure or functions'
Ingredients of cosmetics
Cosmetic ingredients come from a variety of sources but unlike the ingredients of food are not often considered by most consumers. Cosmetics often use vibrant colors that are derived from some unexpected sources; ranging from crushed insects to rust. Many techniques have allowed manufacturers to synthesis such colors ( or part thereof ) and use has been declining for many years and now virtually eliminated due in part to the efforts of Beauty Without Cruelty, PETA, and other groups.
Cosmetics in a variety of   forms   date back to early civilization, with the need to improve ones' appearance being an important factor in attracting a mate. Over the years the ingredients have changed dramatically.
Let's talk a little bit about plastic or cosmetic surgery. My two year old son likes to watch a toddler show called "Bob the Builder'….the characters sing a little tune that says 'Can we build it?" and the kids go  "yes we can!'
Well, today science and technology has made it possible to 'rebuild ' you. If you want a bigger, smaller, tighter, lighter , basically whatever shakes your boat, you can purchase it with a price. Yes, it is very tempting, most of the results are life changing and sometimes is needed …… if you need  plastic surgery because of a bad accident ( consider brothers and sisters that may have been injured and maimed in the military ), someone born with a genetic defect like cleft palate, people burned and need  skin graphs,  possible extensive dental work because of loss of teeth or disease , or have an issue that needs medical attention …..breast or brain  cancer etc , that is completely different than getting cosmetic surgery just to enhance what you already have to make you  physically more attractive  by  the  current beauty standards of this world……
For example, a nose job, not because you can't breathe or have a sinus problem that is potentially harmful to your health or deemed life threatening,    but rather you hate the way you look ……..  it is a lust demon and very carnal…..you have to ask yourself why do you want to alter or change what your physical appearance may be?
So what price are you willing to pay?, Actually you could pay with your  life….there have been many celebrities and common folk who have died either on the table or shortly thereafter for fulfilling the lust of their eyes to fit in this  societies  ideal of what is expected and what is beautiful.  Some bleaching creams have caused severe burns and blindness.  It is so bad , that people have gone out of the country to perform surgeries that they would otherwise not be able to afford in America. Also many so- called doctors and illegal non-certified plastic surgeons  are  popping up performing procedures and doing injections of who knows what.  With this comes the risk of not only diseases, but awful disfiguring procedures done in which there is no coming back from. Look all throughout cyberspace and the news media, you can review photos and read articles for yourself.
Job 13 vs 4,,,,,but ye are forgers of lies, ye are physicians of no value..
In my early years I used to model and I went on a go-see for a famous designer (  known for dramatic evening dresses ), they had  me try on several gowns, so I go went in  & did my little walk and turned around  in this one dress that was more revealing in the front……and the  casting director said, "she's beautiful , she walks lovely, but she looks like she's wearing her mother's dress'. So when I get back to the agency …. the feedback they gave me was that I should have my breasts done., and I would get more work.  You must realize I knew a lot of girls who got this done, so the pressure was on, I knew about the pain during healing and all that but did'nt care because after I had them done I was going to Europe and walk the catwalks like a supermodel!!! So during a college break I was going to get  a " boob " job, ( silicone implants ) they were cheap by todays' standards , I had a payment plan set up and everything. During this time I meet my husband….and he says " don't do it ….if you were meant to have them , the Lord would have given them to you,,,,( I would have been a wicked mess and I know it , that's what so messed up about it )  and years from now they going to do studies that say they can cause cancer'. No breast enhancement for me. Case closed
I'm guilty of the lust demon jumping on me again, I wanted a tummy tuck after our third child I gained 80 pounds , my husband said "NO" again, 'do some sit ups',…..so I had to lose the weight again the hard way. I tell my daughter all the time keep the commandments , eat your vegetables drink your milk so you don't have to wait until you have children to develop breasts. Lords will I can make it to the kingdom and have the body I have always   dreamed of ( or  should I say what my husband has always dreamed of )
Psalm  144 vs 12….that our sons may be as plants grown up in their youth; that our daughter s may be as cornerstones, polished after the similitude of a palace….bang, pow, wham , whoa!!!!
1 Corinthians 15 vs 52….in a moment, in a twinkling of an eye, at the last trump ; for the trump shall sound, and the dead shall be raised incorruptible and we shall be changed
A male cousin of mine told me that he was talking to a woman who at one time   ONLY had looks going for her…. she used to be a big tease and took advantage of many a brother….and now those looks are slowly fading away (abuse, neglect, aging ).….those games are no longer working , just to  think she wasted her entire life focusing on what was on the outside and now the face and body are no longer what they once were in her youth. So sad. She is miserable and alone. Men are gone because they are no longer interested because she can't hold a conversation, cook or clean , the wrinkles have set in and men have moved on to the next  pretty young thing.  A great body and a pretty face is great to have, but as a repentant Israelite woman, your mind , and knowledge of the holy scriptures is the most beautiful thing you have going for you.
App. Ecc. 26 vs 14,15…..a silent and loving woman is a gift of the Lord; and there is nothing so much worth as a mind well instructed…A shamefaced and faithful woman is  a double grace, and her continent mind cannot be valued
I want to be remembered like Judith in the following scripture….
App… Judith  11 vs. 21…..there is not such a woman from one end of the earth to the other, both for beauty of face and wisdom of words.
Apocrypha   Ecc .36 vs  22…..the beauty of a woman  cheereth the countenance  , and a man loveth nothing better.
Esther  2 vs 12….now when every maids turn was come to go in to the king Ahasuerus, after that she had been twelve months, according to the manner of the women,  for so were the days of their purifications accomplished, to wit, six months with oil of myrrth, and six months with sweet odors, and with other things for the purifying of the women.
Apocrypha   Judith  10 vs 3-7 …..washed her body all over with water and anointed herself with precious ointment and braided the hair of her head, and put a tire upon it, and put on her garments of gladness wherewith she was clad during the life of Manasses her husband. …they wondered at her beauty very greatly…..
Proverbs  31 vs 30,31……Favour is deceitful, and beauty is vain; but a woman that fears the Lord, she shall be praised….Give her of the fruits of her hands; and let her own works praise her in the gates.